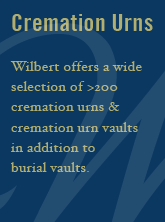 Personalization
Wilbert offers multiple ways to personalize a burial vault or urn vault with words, symbols, and images that speak of a singular spirit. Your loved one had a unique personality. The selections you make for the visitation and service should communicate that singular spirit. These choices ensure your loved one's memory is remembered for generations to come.
The Norwalk-Wilbert Vault Company is an independent, locally-owned licensee of Wilbert Funeral Services, Inc that has served the Death Care Industry for 78 years. Located in Connecticut, Norwalk-Wilbert is the dominant vault company in the Northeast, serving Massachusetts, Rhode Island, Connecticut, New York and New Jersey.

Norwalk Wilbert was founded in 1926 by Louis Pirozzoli. During the first year in business, Louis and his family of seven sold 30 vaults for $30 each. Originally named the Norwalk Vault Company of Bridgeport, the company incorporated the Wilbert name upon becoming a Wilbert Licensee in 1982.

From its founding, the Company proudly enjoyed four generations of Pirozzoli family operation. Louis passed the business to his three sons Bill, Angelo, and Al. In time, Angelo's son Bob and Bill's son Rick joined the business as well.
In 2006, not having a fifth generation to pass the business to, the Pirozzolis chose Mark Bates, a life-long New Englander to take over the leadership of the business. Mark brings his background in accounting, finance, and small business investments to this fine, family-run business. He has continued the tradition of going to any length to serve the customer while making significant investments in machinery, equipment, and staff to maintain and grow this professionally-run organization.

Our experienced staff is dedicated to making the funeral experience a comforting memory for families and friends who grieve the loss of one they cherish. Our beautifully detailed, individually crafted, hand-painted Wilbert® burial vaults and cremation urn vaults contribute to this comfort. Norwalk-Wilbert's skilled Customer Service Representatives provide a solid background of experience and caring before, during, and after the service. We are here to help.
Norwalk Wilbert is open Monday – Friday 7:30 am – 4:30 pm.
Norwalk Vault Company is a proud member and/or sponsor of:
• The Wilbert Manufacturers Association (WMA)
• The National Concrete Burial Vault Association (NCBVA)
• The International Memorialization Supply Association (IMSA)
• The International Cemetery, Cremation, and Funeral Association (ICCFA)
• The National Catholic Cemetery Conference (CCC)
• The New England Cemetery Association (NECA)
• The Connecticut Funeral Directors' Association (CFDA)
• The Massachusetts Funeral Directors' Association (MFDA)
• The Rhode Island Funeral Directors' Association (RIFDA)
• The New York State Funeral Directors' Association (NYSFDA)
• The Connecticut Cemetery Association (CCA)
• The Massachusetts Cemetery Association (MCA)
• The Rhode Island Cemetery Association (RICA)
• The New York State Cemetery Association (NYSAC)
• The Metropolitan Funeral Directors Association (MFDA)
• The Nassau-Suffolk Funeral Directors Association (NSCFDA)
• The Metropolitan Cemetery Association (MCA)